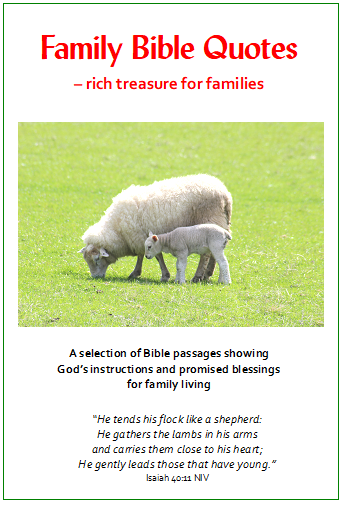 Family Bible Quotes
THE BIBLE is full of God's instructions and promised blessings for families – Rich Treasure! These quotes (with comments), taken from every book of the Bible, cover every area of family life. The Lord has not left us guessing about how to fulfil the most serious responsibility a human being can be given: to bring up a child on God's behalf.
Here are the words of our loving heavenly Father and his Son. If we listen obediently, we will hear his kind invitation to ask for his richest blessings on our family. Do these include the greatest of all blessings? Taste and see! "If you remain in me and my words remain in you, ask whatever you wish and it will be given you…" John 15:7 NIV
256 pages A5 Book (Hardcopy: Print double-sided on A5 sheets. Bind at left.
Download PDF